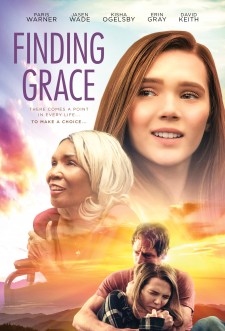 Teen-driven FINDING GRACE brings timely reminder to audiences - while there may be darkness, there is always hope. Available April 21 (VOD) and May 5, 2020 (DVD) from Vision Films.
VENICE, Calif., April 15, 2020 (Newswire.com) - ​​​​Warren Fast's debut feature, FINDING GRACE, tips its hat to the emotional roller coaster humanity is currently on and reminds audiences that there is always hope - no matter how challenging life may be.
Alaska Rose (Paris Warner) is a rebellious young adult whose antics have landed her in adult court. Having just turned 18 and no longer a juvenile, she is given one last opportunity to set things straight: community service in an assisted living facility, where she is assigned to an elderly, hostile resident, Mrs. Foster (Kisha Sharon Oglesby). A factious relationship evolves into an incredible friendship, and Alaska is reminded that, with faith, hope will always shine through pain and fear.
Vision Films and Mythic Pictures are proud to present FINDING GRACE, written/directed by ​Warren Fast, starring Paris Warner (Little Women, Once I was a Beehive), Jasen Wade (The Cokeville Miracle, Saints and Soldiers: Airborne Creed), Kisha Sharon Oglesby (L.A. Law, On The Road), alongside screen icons Erin Gray (Buck Rogers in the 25th Century, Baywatch), David Keith (An Officer and A Gentleman, Hawaii Five-0), and Bo Svenson (Inglorious Bastards, Kill Bill Vol. 2).
"FINDING GRACE was born out of a desire to present a message of hope in a compelling, entertaining, and unique way," says writer/director Warren Fast. "The message is simple: there is hope. Everyone experiences hardship and pain in their life. By loving and helping others through these obstacles, we can better overcome our own - and discover true healing and true joy."
"In today's world, the fear people have for situations that they cannot control is real," says Producer, Stacie Fast. "This film is a reminder that with faith, hope cannot be taken away."
FINDING GRACE will be available on digital on April 21for an SRP of $4.99 - $9.99 from platforms including iTunes, Vudu, Google Play, Xbox, Amazon, and FandangoNow, as well as cable affiliates everywhere and to buy on DVD on May 5 for $12.99 online at all major retailers.
"We are so proud to be presenting FINDING GRACE, a film which is certain to touch many people with its humanity and important message," says Lise Romanoff, Vision Films Managing Director/CEO. "Warren Fast's debut film is a testament to finding the strength to be kind to yourself and others in the face of tragedy."
Pre-Order: FINDING GRACE
iTunes: https://apple.co/39Gitub
Trailer: https://youtu.be/Rl-CKm4EZIk
ABOUT VISION FILMS:
Vision Films is an Independent Worldwide Distributor and VOD Aggregator of over 800 Feature Films, Documentaries, and Music Programs from some of the most prolific independent film producers in the world. Led by Lise Romanoff, Managing Director/CEO Worldwide Distribution, Vision Films releases 2-4 films a month, across Theatrical, VOD, DVD, and television. www.visionfilms.net
Source: Vision Films
Share: