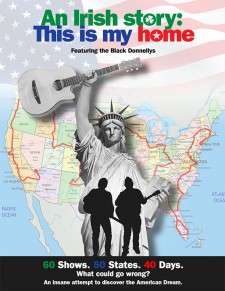 Now available on DVD and VOD in the United States
LOS ANGELES, March 18, 2020 (Newswire.com) - Sixty shows. Fifty states. Forty days. What could go wrong? Beloved Irish band The Black Donnellys set out to break this seemingly impossible world record in An Irish Story: This Is My Home. Presented by Vision Films and Frequency Pictures, this joyous and uplifting film is now available on DVD and VOD in the United States.
Following The Black Donnellys' Dave Rooney and Dave Browne's journey across the United States, this joyous, inspiring and hilarious documentary shows the incredible power music has to bring people together and the positive effect that immigration has had on the country. Directed by Karl Nickoley and featuring original music by The Black Donnellys, An Irish Story: This Is My Home is now available in the United States and will be available on April 20 in the United Kingdom, Ireland, Australia and New Zealand.
The Las Vegas-based band, The Black Donnellys, are no strangers to world records, with Dave Browne currently holding the Guinness World Record for guitar playing for over 114 hours straight. The band, who is currently in residency at Mandalay Bay, chased after their newest challenge to complete 60 shows across 50 states in 40 days with passion and resilience, despite natural disasters, injuries, financial difficulties and transport troubles. "There were a lot of downs. This trip was insane," said David Rooney.​
Synopsis
Pursuing the American Dream in an RV, The Black Donnellys embark on an adventure to set a Guinness World Record, playing 60 shows in all 50 US states in just 40 days. These rambunctious, guitar-slinging, pint-drinking Irish immigrants connect with fans through music on an emotional whirlwind road trip full of friendship, original music, and laughter.
An Irish Story; This Is My Home is now available on digital for an SRP of $4.99-$9.99 from platforms including iTunes, Vudu, Google Play, Xbox, Amazon, and FandangoNow, as well as cable affiliates everywhere and to buy on DVD for $12.99 online at all major retailers.​
Order AN IRISH STORY: THIS IS MY HOME
iTunes: https://apple.co/31QusSM
Trailer: https://youtu.be/l4wQCjux470
Website: https://www.thisismyhomemovie.com
We are excited to present An Irish Story: This Is My Home for review and editorial inclusion. Review links are available upon request. Interviews are also available with The Black Donnellys.
For more information, or to request a screener for review:
Nicole Newton-Plater
For Vision Films
nicole@EPECmediagroup.com
+1-424-335-4734
Source: Vision Films
Share: