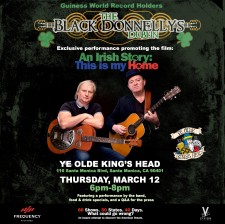 The Irish musical sensation will be on hand to perform songs from their film on March 12, 2020, ahead of the Vision Film's DVD/VOD release
LOS ANGELES, March 6, 2020 (Newswire.com) - 60 shows. 50 states. 40 days. What could go wrong? Find out what happens when beloved Irish band The Black Donnellys set out to break this ambitious world record when Vision Films and Frequency Pictures present An Irish Story: This is My Home. The film will be having its rocking launch party at Ye Olde King's Head Santa Monica on Thursday, March 12, 2020, ahead of its DVD/VOD release on St. Patrick's Day.
Following The Black Donnellys' Dave Rooney and Dave Browne's journey across the United States, this joyous, inspiring and hilarious documentary shows the incredible power music has to bring people together and the positive effect that immigration has had on the country. Directed by Karl Nickoley and featuring original music by The Black Donnellys, An Irish Story: This Is My Home arrives on DVD and video on demand on March 17, 2020.
Dave Rooney and Dave Browne will be in attendance at Ye Olde King's Head (116 Santa Monica Blvd., Santa Monica) on March 12 and will be performing songs featured in the film with surprise guests. The festivities will be from 6-8 p.m. and will include the performance by the band, food and drink specials and a Q&A with The Black Donnellys for press.
Synopsis
Pursuing the American Dream in an RV, The Black Donnellys embark on an adventure to set a Guinness World Record: playing 60 shows in all 50 U.S. states in just 40 days. These rambunctious guitar-slinging, pint-drinking Irish immigrants connect with fans through music on an emotional whirlwind road trip full of friendship, original music, and laughter.
Trailer: https://youtu.be/l4wQCjux470
Website: https://www.thisismyhomemovie.com
For more information:
Nicole Newton-Plater
For Vision Films
nicole@EPECmediagroup.com
+1-424-335-4734
Source: Vision Films
Share: