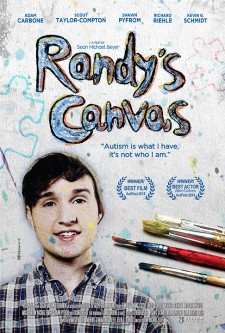 SoCal Filmmaker Exclusive Screening of Feel-Good Film in his hometown Grass Valley with proceeds benefiting Autism
HOLLYWOOD, Calif., August 1, 2018 (Newswire.com) - Directed by Grass Valley native, Sean Michael Beyer, Randy's Canvas will be having it's Red Carpet Exclusive Screening on Aug. 6, 2018 at the Del Oro Theater.
WHAT: Nevada County Red Carpet Screening of "RANDY'S CANVAS" Benefiting Autism
WHO: Co-writer/producer/director Sean Michael Beyer
Cast includes: Scout Taylor-Compton (Halloween, The Runaways); Kevin G. Schmidt (Cheaper by the Dozen, Butterfly Affect), Richard Riehle (Office Space, The Fugitive, Casino) and award-winning newcomer Adam Carbone as Randy (cast may not be in attendance).
WHERE: Del Oro Theater
165 Mill Street, Grass Valley, CA 95945
WHEN: Monday, August 6, 2018
6:00pm – Press & VIP Check-In
6:30pm – Red Carpet Arrivals & Photo Op
7:00pm – Premiere Screening Begins
8:45pm – Q&A and Special Announcement with Sean Michael Beyer
9:00pm – Hosted Reception at The Lourve Gallery
124 E Main St, Grass Valley, CA 95945
TICKETS: www.RandysCanvas.ORG/GrassValley or (800) 838-3006
General Admission $12; Tickets provided by Brown Paper Tickets and are not available at the theater.
ALL TICKET PROCEEDS BENEFIT AUTISM
For further information, please email: production@randyscanvas.org
Randy (Adam Carbone, Best Actor, AutFest 2018) is a young man with autism who aspires to be an artist. Curator Maurizio D'Oro (Massi Furlan, The Dark Knight Rises) notices his talent and opens many doors for him, including the chance to study with the renowned art professor, Hausdorff (Richard Riehle, Casino), and to have his work shown in a gallery. When Randy falls in love for the first time, his life begins to spin out of control as he tries to deal with a roller coaster of emotions and first-time experiences. With the help of his new classmate Cassie (Scout Taylor-Compton, Halloween) he learns valuable lessons about friendship, emotions and acceptance.
Randy's Canvas will be released by Vision Films Sept. 18, 2018 on premium VOD Cable & Digital Platforms and DVD online retailers.
Run time: 102 minutes
www.randyscanvas.org | facebook.com/randyscanvas
Source: Vision Films
Share: