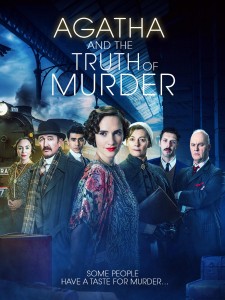 Available on VOD on April 7 and DVD on April 21, 2020
LOS ANGELES, March 17, 2020 (Newswire.com) - ​​​​The unexplained 11-day disappearance of beloved mystery writer Agatha Christie in 1926 has created as much intrigue over the years as her best-selling novels. Presented by Vision Films, Terry Loane's Agatha and The Truth of Murder is a stunning reimagining of what happened to the author over those days nearly a hundred years ago. With an intriguing and compelling story not unlike that of a Christie novel, this historical murder mystery is charming and enigmatic, with a strong female lead who was well ahead of her time. Agatha and The Truth of Murder will be available on selected EST platforms in the U.S. and Canada on April 7 and to rent and buy on DVD on April 21, 2020.
Starring Ruth Bradley (Humans, Primeval), Pippa Haywood ( Pride and Prejudice and Zombies, If Only), Dean Andrews (Life on Mars, Last Tango in Halifax), Bebe Cave (Victoria, On Chisel Beach), Tim McInnerney (Notting Hill, Eddie The Eagle), Ralph Ineson (Harry Potter and The Deathly Hallows, Chernobyl) and Blake Harrison (A Very English Scandal, The Inbetweeners), Agatha and The Truth of Murder is in the spirit of Christie's Hercule Poirot and Miss Marple novels, with the visual charm of Downton Abbey.
Agatha Christie (Ruth Bradley), a young mystery novel writer, sets out to help solve a real-life murder case when a wealthy woman is found bludgeoned to death. With the help of the murdered woman's lover (Pippa Haywood), she assumes a disguise and a trap is set for the suspects. But she soon discovers that real-life cases are harder to solve, and this killer is far more cunning and dangerous than her fictional creations.
Agatha and The Truth of Murder will be available on digital from April 7, 2020, for an SRP of $4.99-$9.99 from platforms including Vudu, Hoopla, and FandangoNow, as well as cable affiliates including Comcast, Spectrum, Charter, Cox, Verizon, Frontier, Dish, and DirectTV. The DVD will be available on April 21, 2020, from all major online retailers.
"We are honored to be offering Agatha and The Truth of Mystery on DVD and EST," says Vision Films CEO/Managing Director Lise Romanoff. "Agatha Christie is one of history's most legendary mystery writers, and what she was doing during her 11-day disappearance many years ago has been a subject of intrigue over the years. This film posits such a brilliant theory to this question and is a stunning and exciting visit to 1920s England."
Pre-Order AGATHA AND THE TRUTH OF MURDER on VOD
Vimeo: http://bit.ly/2vSSq4p
Trailer: https://youtu.be/ZM_vFPMmLsY​​
We are excited to present Agatha and The Truth of Murder for review and editorial inclusion. Review links are available upon request.
For more information, or to request a screener for review:
Nicole Newton-Plater
For Vision Films
nicole@EPECmediagroup.com
+1-424--335-473
Source: Vision Films
Share: